After School Club ages 10+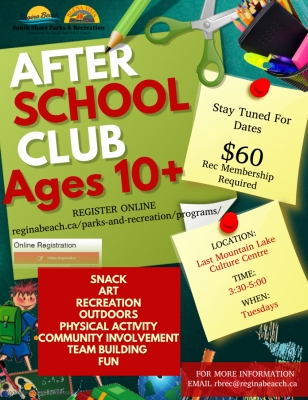 At After School Club kids will participate in an array of indoor and outdoor activities, such as snow shoeing, walks, art, crafts, games, guests, and experiments. This program is mostly youth driven to ensure all youth get the opportunity to do what they enjoy or would like to have the opportunity to try. A healthy light snack will be provided each day.
Keeping kids active in the after school hours.
October - March
3:30 - 5:00 PM Tuesdays
at Last Mountain Lake Culture Centre
Snack

Art

Recreation

Outdoors

Physical Activities

Community Involvement

Team Building

Fun
Due to COVID-19 a number of changes to programming and events have occured and have been implemented. Some recreational programs may proceed if physical distancing is possible and if an alternative facility can be utilized. Contact [email protected] for further information on programs/events currently able to run.