Assistant & Lifeguard Courses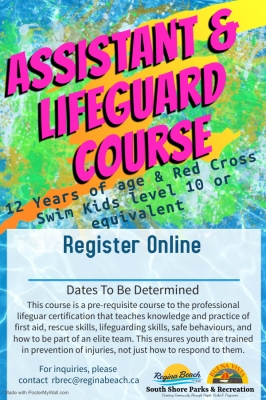 Parks and Rec also offers Red Cross Assistant Lifeguard and Lifeguard courses when there is enough interest to run the courses. The Assistant Lifeguard course is a pre-requisite course to the professional lifeguard certifciation that teaches knowledge and practice of first aid, rescue skills, lifeguarding skills, safe behaviours, and how to be part of an elite team. This ensures youth are trained in preventation of injuries, not just how to respond to them.
Due to COVID-19 a number of changes to programming and events have occured and have been implemented. Some recreational programs may proceed if physical distancing is possible and if an alternative facility can be utilized. Contact [email protected] for further information on programs/events currently able to run.