Babysitter Training Course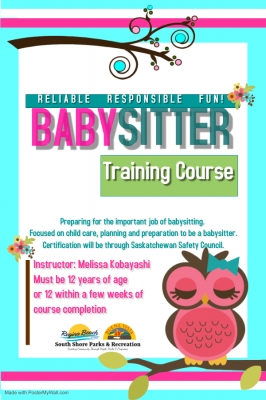 The goals of the Babysitter Training Course are to provide the student with up-to-date child care information, the tools to properly communicate with parents, the knowledge for preventing and treating injuries, and managing any other challenges that may arise. The Saskatchewan Safety Council Babysitter Training Course is an excellent way to prepare a young adult for the important demands of the job.
The course is offered whenever there is enough interest to run it.
Due to COVID-19 a number of changes to programming and events have occured and have been implemented. Some recreational programs may proceed if physical distancing is possible and if an alternative facility can be utilized. Contact [email protected] for further information on programs/events currently able to run.