Kids' 3 On 3 Hockey Tournament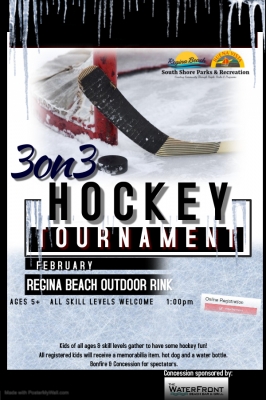 The Regina Beach Outdoor Rink is a very popular place in the winter months. This event draws many families to the rink in a fun afternoon/evening of activities. This is an opportunity for all children, regardless of skill level to get out and participate in sport. Each player receives a swag bag and a hot dog with registration. Concession is also available throughout the event.
A fun social event for all.
Due to COVID-19 a number of changes to programming and events have occured and have been implemented. Some recreational programs may proceed if physical distancing is possible and if an alternative facility can be utilized. Contact [email protected] for further information on programs/events currently able to run.